Everyone in organic
search engine marketing
knows tracking website's position is important to a business. A good accurate keyword rank tracker delivers promptly notification about the changes of a website's ranking. This can be an alert to business owner to prepare and make changes in case of a big drop in ranking due to search engine algorithm's modification such as famous Google Panda and Penguin. This is important to make sure your website always stay on top and constantly receive organic visitors. However, getting the right keyword rank tracker is not easy and depending on various factors.The first major factor to consider is On-Demand or Campaign based rank tracker.
On-Demand
rank tracker normally use on keyword research once a time.
Campaign
based rank tracker will run overtime to monitor your keyword ranking ranging from daily, weekly or monthly. This article is focusing on campaign based rather than on-demand rank tracker.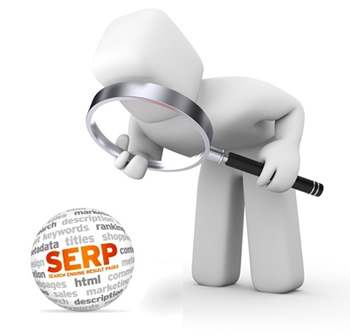 Next factors are the keyword volume and pricing. If you are a small business owner who likes to monitor your website ranking, there are plenty of free and cheap plans.
SEO consultant
or agency may require high keyword volume with reasonable price. Cost normally is not a big issue as these types of tools can help you save lot of time and effort.Ranking accuracy is another factor you should consider to make sure your chosen rank tracker give you the correct result. I have tested over 10 keyword rank trackers to compare their accuracy among each with same domain, same keywords and over same period of time. It took plenty of time to setup, monitor, gather and analyses the result. I hope it is useful for someone who is looking for a keyword rank tracker. Enjoy!(Note: Some of the links are affiliated links.)
Rank Trackers Comparison at a Glance
The following table indicates the overview of the list of campaign based rank tracker based on my own finding. You may find out the comparison of keywords volume, pricing and unique features between each rank trackers.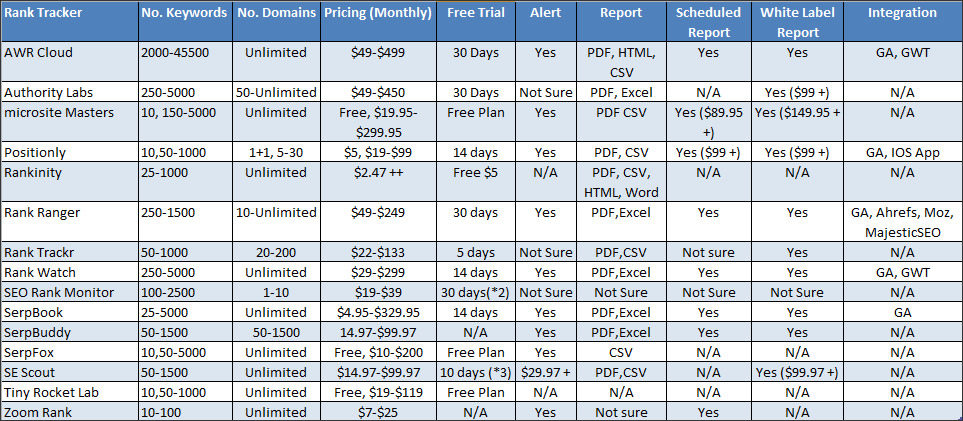 The Full Review
The first 10 keyword rank trackers in these reviews are tested by signing up their free trial or free plan. The reviews of rest of the trackers are solely based on the information in their website.
AWR Cloud
A well-known established company started in year 2002 delivers search engine ranking monitoring services with clients over 171 countries.
AWR Cloud provides on-demand rank trackers as well as campaign based which known as AWR Cloud.
It supports Google Analytics and Google Webmaster Tools integration.
A comprehensive dashboard with various chart and graph indicating visibility score, keyword activity such as moving down/up, new rank, lost ranking and ranking distribution..
It provides various type of ranking results' views including website ranking, keyword ranking, visibility and website comparison.
Highly customizable white label report in HTML, PDF and CSV format and support scheduled report in weekly and monthly basic. At the same time, it sends out daily summary update. Do note that, the scheduled report links to an online PDF report with AWR Cloud URL. You will see the footer contains power by AWR Cloud which is not 100% white label in this case.
One of down side is lacking of notification function. I can't create custom notification to track the changes on a keyword's ranking. Again, it does send out daily summary updates on the ranking for each domain. It will be great if we can further customize down to keywords and domain. This will be helpful so that we can create comprehensive notification for important keywords and leave those less important keywords.
It provides basic website auditor to check various on-page issues such as broken links, missing Meta tag, duplication content etc.
Pricing wise is competitive if you are looking for large volume of keywords.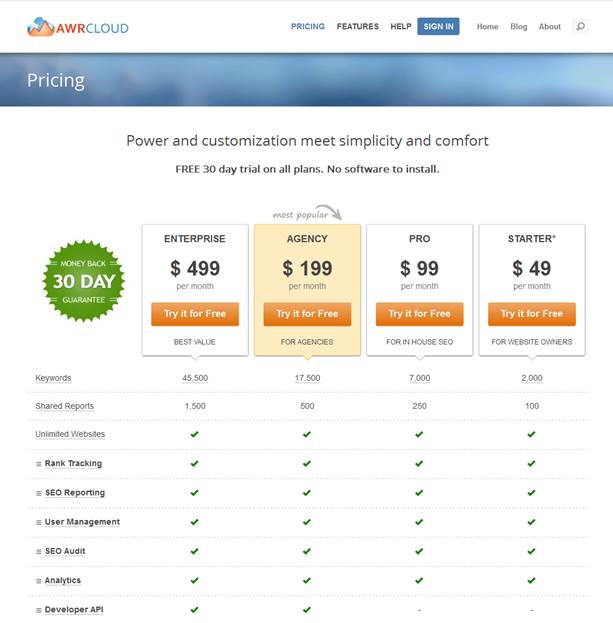 Authority Labs
Started in 2008 and gain good reputation in in delivering search engine ranking monitoring services.
Manage your domains and keywords are simple and easy. But it seems like not easy to add additional search engine easily once you have created a project (domain).
It provides all the important ranking reports, option to download and export to CSV and PDF format.
They claim it support 100% white label report but only applicable in Pro plane ($99) onward. I did sign up trial account but seems like not able to find the option how to make the report 100% white label. I still get their logo print as the header when exporting a PDF report.
The site provide example of domains and keyword once you sign up to their page. This will be help for you to quickly learn how to use the tools in few minute times.
The navigation structure may take some times to get used to it as they didn't clearly separate or group by in functionally. E.g. If I wish to manage/export all my reports, I will need to go in to each of my domain and export one by one.
The other down side is lacking of notification function and scheduled report. I can't create custom notification to track the changes on a keyword's ranking.
Overall it is still good as they did provide all the ranking result clearly.
Pricing wise is a bit less competitive compare to AWR Cloud.
Microsite Masters
Started in 2009 and offer comprehensive rank tracking services.
Offers free plan for up to 10 keywords which are rarely found in other competitors. Although the features are limited but it definitely good enough for small individual company to track their ranking.
It offers various standard rack tracking features such as rank change notification, scheduled report and white labeled reporting. However, you need to pay at least $149.95 in order to enjoy the full features.
The dashboard is clean and simple. You may not see fancy report and graph like others. But the key ranking information is presented nicely with + or – sign together with appropriate background color. You can see all the ranking from various search engines at the same page.
Scoreboard is something unique which is not found in other rank trackers. It shows the top performing and negative performing keywords at a glance. Imagine if you are managing hundreds of keywords, this feature definitely can save your time to find out the keywords that need your attention.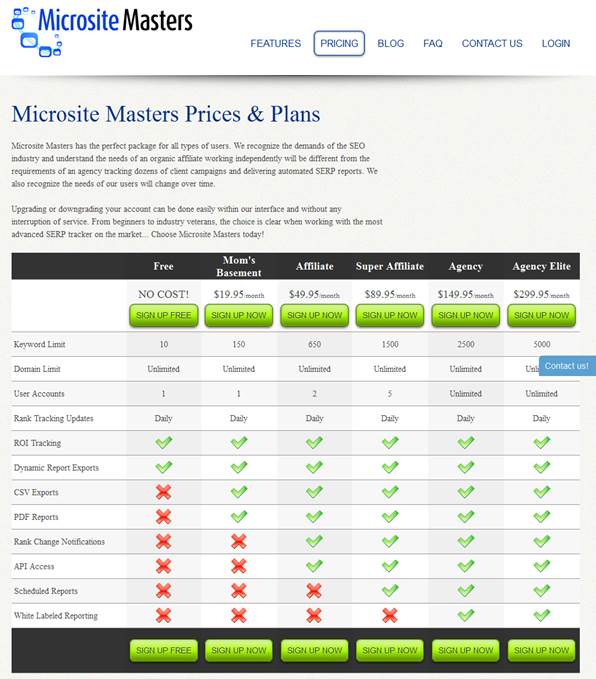 Positionly
Started in 2010 and featured in TechCruch and SEJ (Search engine journal.)
It aims to provide the total solution to monitor your search engine ranking performance, monitor your backlinks and on-page optimization. Backlinks monitoring (provided by Ahref) is one the features that is useful and not found in other competitors.
The dashboard provides high-level view on average position. You need drill down to your domain to find out the actual keyword ranking. Each of the keyword ranking is filter by search engine. If you added multiple search engines, you need to switch around to view all the ranking page by page.
The navigation for each category is user-friendly.

Website – monitoring ranking, backlinks and competitor performance.
Report – Keep track of simple or recurring reports which cover summary ranking report, day by day ranking report and backlinks report. Report content customization is limited compare to AWR Cloud. Scheduled report and automatic send email seems like doesn't included. This is one of it down side as it is important features to monitor your ranking.
Research – Provide basic on-page optimization checking and validation.

One of the awesome features I like the most is the iPhone app ranking checking. This feature is handy and can help you save tons of time and monitor your website ranking from time to time within your iPhone. It is always troublesome to open up the full website to find out the ranking compare to few swaps within your iPhone.
One thing I should mentioned here is they provide startups programs that offer free 6 months of usage.
Pricing wise is much more flexible as it support lower keywords start from 10 keywords.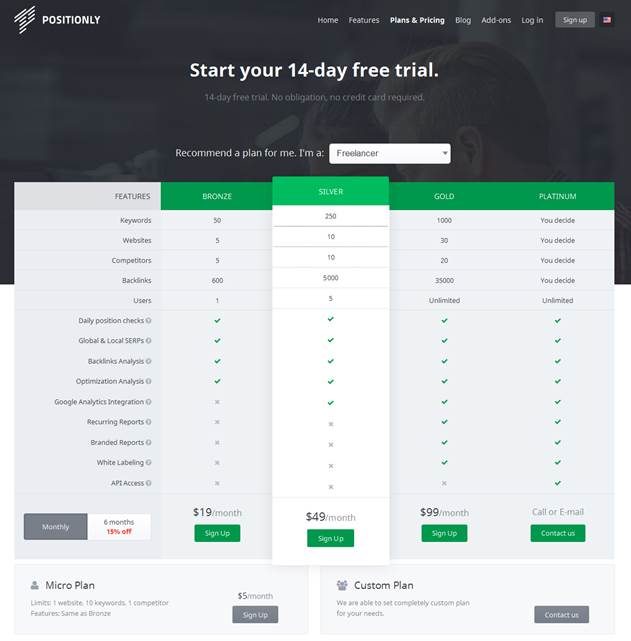 Rankinity
Rankinity started in 2013 and is relative new compare to other rank tracking tools. But it is worth take in to consideration especially you are small business and which only target for small number or keywords.
It uses credit balance to pay your fees. You need to top up credit in to your account. Each keyword checking will cost about $0.0032. Daily checking for 50 keywords for 30 days cost about $5.00 which is relatively cheap. You may increase your checking internal to 3 days or more which reduce your total cost down to $2 or less.
One of the weaknesses I found is the lack of reporting features. So far I can't find a way to export all ranking positions for specific keywords over a period of time. You not able to find alert notification, scheduled report and white label PDF report. Thus, it will be good for end user but not SEO agency.
Here is the pricing calculator allow to estimate how much your monthly is. By the way, it provide free $5.00 credit for all new sign up.
Rank Watch
Launched in October 2012 and quickly attracted 1300 trial users and > 50 paid user within 5 months.
Dashboard is simple but informative. All the navigations are clear and user friendly. Integrate with google webmaster tool and google analytics provide an overview of your entire website. You can easily add additional keyword or search engine within 1 or 2 clicks.
It not only tracking your web ranking but also able to track ranking in image, news, video, ads and local ranking. This provides a complete view of your website visibility.
Rank Watch also automatic present your competitors' ranking so that you can keep rack their ranking.
Backlinks is useful for you to keep your eyes on what backlinks is drop from time to time.
The best feature I like about rank watch is their reporting module. It allows you to create manual report and keep on their server as CSV or PDF format. Scheduled report is powerful where you can configure the frequency and time to send a report. It is completely white label report using your custom defines template. You may define multiple different templates for different report. This is very handy for an agency to manage different types of clients or expectations.
Rank Watch is one of the most active rank tracker companies improving their products. New features and enhancement are constantly introduced from their website and blog,
In terms of pricing, Rank Watch is very competitive together with all the complete features even for the lowest plans. Unlike others where white label report only available to the certain top plans.
SerpBook
Started in 2012 and have a big thread in SEO forum. It gains lot of good reviews from the members. Support and response are awesome.
Unlike other rank trackers, SerpBook provide simple, clean and handy functions. You may not see lot of fancy charts or graphs in the dashboard. If I am not mistaken, it only provides one type of line chart with configurable timeline. But this is more than enough to track the ranking over time.
All standard features such as alert notification, white label report, and schedule email report are supported. You may not see lot of configuration or setting but all the setting is just good enough to provide all the necessary features.
One of the advantages of SerpBook is the result will be generated almost constantly once you added your new keywords or domain. Other keyword rank trackers normally take for hours or days.
The main selling point of SerpBook is their pricing. It starts $4.95 with a small plan 25 keywords while most other competitors charge $20-$30++. Others did provide high numbers of keywords but may not be fully utilized in most cases for small companies or individual.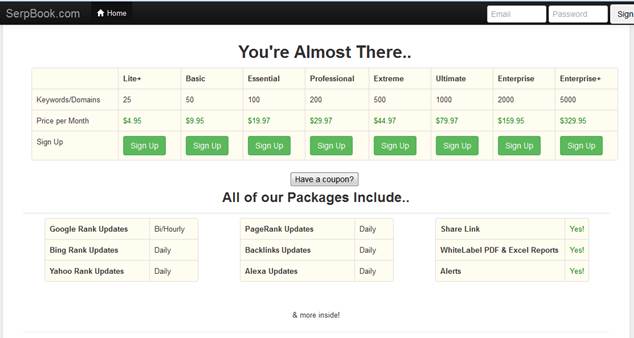 Rank Ranger
Started in 2009 and offers rank tracker service, research & analysis, on page optimization and link management.
Allows you to do advanced rank tracking and provide various type of reports such as market reach, landing page performance, tag rank distribution, website rank distribution, average rank positions and many more . Each of this report offer unique configurable options such as date, keywords, search engine filtering and etc.
I found one small usability issue where the side bar menu always reset to default collapse option. It will be annoying to click and expand again if I would like to move on to the next sub menu. Ideally, it should keep the last used navigation expanded. Same problem apply to module navigation.
Research module allows you to explore and track domain stats and metrics. You can integrate with Google Analytics to provide an integrated view of your website stats.
On-Page provides good checking on various aspects including keyword optimization such as title, keywords, keyword density analysis and readability test. It should cover everything in the on-page optimization if use it together with the site checkup from http://www.seositecheckup.com.
Link management lets you add link to check the status and keep track your paid links renewal date. This function may be useful before Google Penguin but not for now.
Pricing wise is at average range. Do note that they limit the no. campaign/website for each plan which makes their pricing less competitive.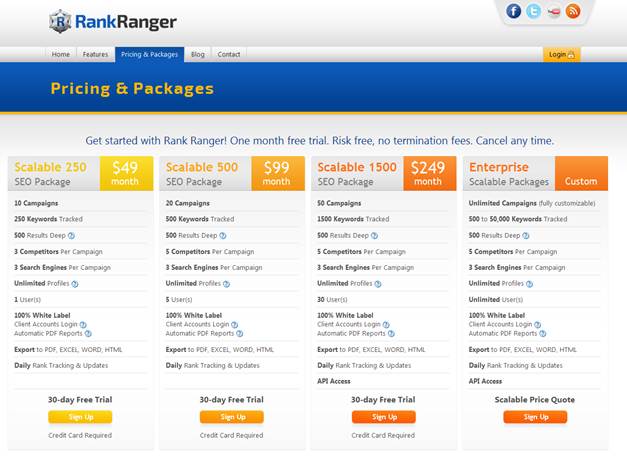 SerpFox
Started in 2010 offer simple rank tracking features with affordable price. I can't find lot of info about their company background at their website. But its name does mention multiple times in many SEO forums.
You may not find lot of fancy graph. It provides one graph for each keyword, adding domain, search engine is easy and flexible. You can group your domain and keyword so that you can share the view authority with clients.
Notification is simple but good enough to get notify on the important changes.
Report is simple and easy to understand. You can export your ranking data in to CSV for further analysis. However, scheduled report and white label report are not supported.
Overall, SerpFox and SerpBook are very similar in term of features but SerpBook are slightly better as it provide scheduled report and white label report. Pricing wise it is slight cheaper compare to SerpBook. It's also offer free account for tracking up to 10 keywords.
It is worth to take a look if scheduled report and white label report features are not important for you.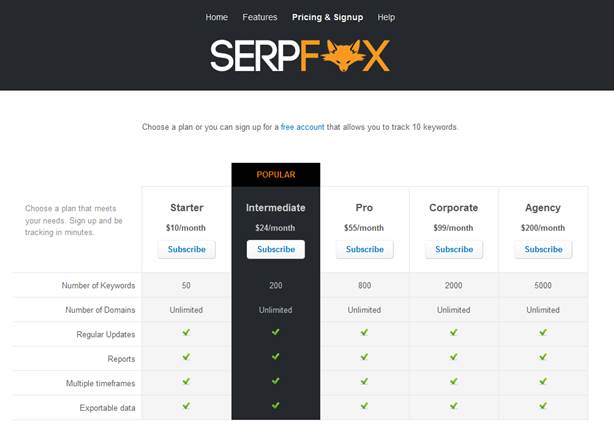 Tiny Rocket Lab
Another new member who join the market in 2013.
Various keys information such as keyword progress and visibility are shown in Dashboard. It's a good fit in between too less or too much information.
Adding domain, URL, keywords and search engine are simple and flexible.
Reporting functionality is simple provided in PDF format. White label report seems does not supported yet. You may export the latest ranking into CSV but not the historical data.
There is a roadmap showing in their website on the upcoming features. It shows that they are actively improving their product same as Rank Watch.
Task management feature allows you to work with your team. This is something unique compare to other rank trackers.
It provides free account which allows tracking up to 10 keywords.
Rank Trackr
Started in 2012 and gain great reputation attracting lot of well-known customer such as shopify, mashable, tripadvisor and foursquare.
Dashboard is clean and minimalistic which allows you quickly see all important ranking information in one page.
Export to PDF and CSV are supported. But scheduled report and alert notification seems like not supported yet.
Pricing wise good where lowest plan start from USD22.00.
SerpBuddy
Started in 2011 focusing on rank tracking feature.
Dashboard is designed in tabular form which allows you to see all keywords status at a glance. Trend chart will be displayed under the keyword once you click on a keyword. Similar design is applied in SerpBook and SerpFox.
Hourly update for Google search engine.
Alert notification, schedule report and white label report are supported.
Pricing wise is competitive where 50 keywords start with $14.97.
SE Scout
Started in year 2010 focus on rank tracking service. Not many fancy charts, graph or additional features such as GA/GWT integration and website auditor.
Dashboard is clean and in tabular design form.
Hourly update is one of its key features together with powerful notification via email or IOS device.
White label reports in PDF and CSV formats are supported for elite members.
Pricing wise is fall in to same category as SerpBuddy where 50 keywords start from $14.95

SEO Rank Monitor
Started in year 2009 and get major upgrade in 2014. The UI and features are completely make-over.
Offer mobile ranking tracking which is seldom found in other rank trackers.
The reporting module is great where you can customize each and every section. This is great for SEO agency where they often need to prepare a nice ranking report to clients.
Pricing wise, it start from $19 per month for 100 keywords and $199 for 5000 keywords. Personally, I like the $49 for 1000 keywords which is a great deal compare to others.
It also allows you to track up to 3 competitors and search engine without consuming your keywords usage. This is great for user like me where we often need to track the ranking for google.com and local google search such as google.com.my. Other tools may need to consume double of the keyword's usage.
It provides daily ranking update which is decent. But if you add a new campaign, you will need to wait until the next refresh. Some tools may immediately refresh the ranking once new keywords are added.
The only drawback is it limits to X number of campaigns (website). If you do not have lot of website and need lot of keywords tracking per site, this will be a great tool compare to others.

Other Rank Trackers
As mentioned, there are still plenty of keyword rank trackers but do not includes in this review due to various factors such as on-demand rank checker, site that are less active, primary feature is not on rank checking and starting price is high. Here are some of them for your reference.
http://www.affilorama.com/tools
http://www.allorank.com
http://www.cognitiveseo.com
http://www.colibritool.com
http://www.conductor.com
http://www.ezwebsitemonitoring.com
http://www.getstat.com
http://www.link-assistant.com/rank-tracker
http://www.marketsamurai.com
http://www.moz.com
http://www.mykeywordrankings.com
http://www.rankchecker.net
http://www.rankerizer.com
http://www.rankpanel.com
http://www.raventools.com/marketing-tools/seo-software/keyword-ranking
http://www.seodiver.com/keyword-monitor
http://www.serpscan.com
http://www.sistrix.com/toolbox
http://www.spyranks.com
http://www.webceo.com
http://www.webmeup.com
http://www.webposition.com
https://www.serps.com
Find out the most accurate keyword rank tracker
Each rank tracker often mentions they provide the 100% result. But who really shows the most accurate result? Indeed, I believe there is no 100% accurate result as each ranking depends on many factors such the time, IP location, additional steps to make sure fresh ranking is being captured and etc. However, we can run ranking testing to compare all rank checkers and find out who provides the best result based on a threshold such as average, median and mode of the ranking.

How to run the testing?
We had selected 10 keyword rank trackers to run keyword ranking comparison to find which on are getting the nearest among all the results. The selected rank trackers are either offer free account or free trial period which are listed as below:
AWR Cloud
Authority Labs
Microsite Masters
Positionly
Rankinity
Rank Ranger
Rank Watch
SerpBook
SerpFox
Tiny Rocket Lab
Others are not selected as they either need to provide credit card information or must paid for it.
The testing criteria are shown as below.
Testing URL: www.ebay.com
Keywords:

auctions
beanie babies 2
iphone 5s
shopping
used car parts

Target Search Engine: Google.com
Checking interval: Daily start from 8,9,10, 15, 16, 17 of April 2014.
Disclaimer: The actual result may be subject to other factors which indicate the variances of the results. These factors include:
The actual timing the result retrieve by each rank checker
The IP and location where the result is being retrieved.
Additional technic used by each rank checker to make sure the result is clean and doesn't impact by cache and etc.
Please use this info as your own risk. The final result may not indicate the actual results in reality.

How do calculate the ranking result
There are many ways to compare the ranking among each other to determine who shows the best result. A most appropriate X threshold value will be used to do comparison for each rank checker's result. This testing includes few scenarios to determine X threshold value as below:
Median Value – Get the middle value from the ranking result among all companies.
Mean Value – Calculate the average ranking result among all companies.
Mode Value – This is the value that occurs most often. If no mode value is found, use then average of Median + Mean Value.
Click here to find out more about Mean, Median and Mode values. http://www.purplemath.com/modules/meanmode.htm
The ranking result will be calculated based on the differences (Diff value) between the company's results against the X threshold value. Here are few examples:
Median value for "auctions" keyword is 9.00 on 8-April.

If result A indicates position 11, the Diff value will be 2.
If result B indicates position 8, the Diff value will be 1.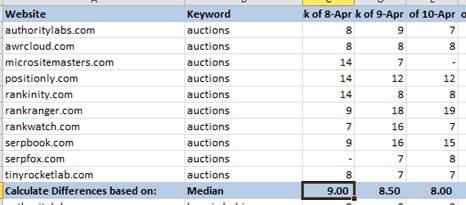 Mean (Average) value for "auctions" keyword is 10.11 on 8-April.

If result A indicates position 11, the Diff value will be 0.89.
If result B indicates position 8, the Diff value will be 2.11.
Mode value for "auctions" keyword is 8.00 on 8-April.

If result A indicates position 11, the Diff value will be 3.
If result B indicates position 8, the Diff value will be 0.
The smallest Diff value indicates the result is the closet result among all results based on the X threshold value. Rank checker A may rank well in Median threshold value but rank bad in Mean threshold value. There will be 3 set of results generated based on the X threshold value above. Lastly, we aggregate the 3 sets of result to generate one overall ranking which should be known as the best measurements to find out the winner.
Exceptional case:
Do note that there are few keyword result from certain company indicate big differences (>50++) compare to the majority result. These exceptional values are excluded in order not to impact the overall X threshold value.

The Ranking Result
The following diagram shows the ranking result for each keyword by company and checking date.
Value "–" indicates there is no value capture by the rank checker.
Value highlighted in yellow will be removed to minimize the impact of the overall threshold value especially for Average threshold.
Keywords with high ranking don't have big differences among all rank checkers.
Keywords with low ranking (>30) seems to have big differences for some rank checkers.
You may find the full excel file on how to calculate the ranking result at the bottom of this page.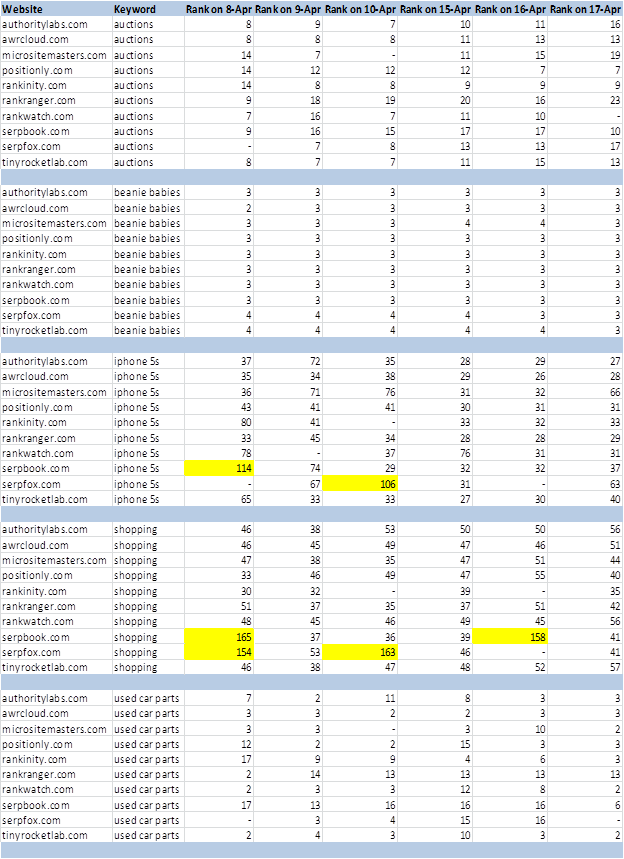 To further compare the result between high rank keywords and low rank keywords, 2 sets of comparison results are generated as below:
All 5 keywords including high and low rank keywords

auctions, beanie babies, iphone 5s, shopping, used car parts

Only high ranking keywords (Exclude keywords with > 30 positions)

auctions, beanie babies, used car parts
Ranking Result for All 5 keywords
Result by Median Threshold – All 5 keywords
AWR Cloud performs the best in Median threshold comparison. It has average 2.28 differences position compare to the other rank checker.
This follows by Tiny Rocket Lap, Positionly and Authority Labs which have about 3 differences position.
Others started to have 4 & 5 position differences.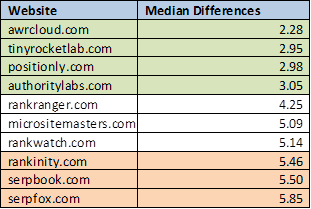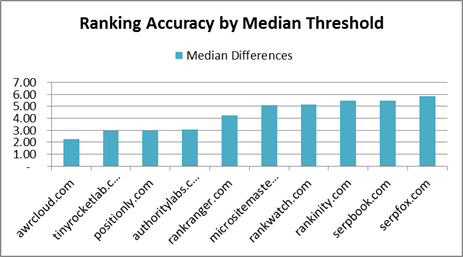 Result by Mean ( Average) Threshold – All 5 keywords
Tiny Rocket Lap performs the best in Mean threshold comparison with 3.72 positions differences.
This follows by Positionly, Authority Labs and AWR Cloud which has about 4 positions.
Others started to have 5 position differences.
Average threshold doesn't indicate the big differences as if any rank checker performs extra ordinary result; the value is calculated as part of the threshold value. In other words, the differences result may highly impacted by 1 or 2 rank checkers compare to its actual result.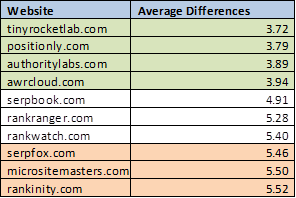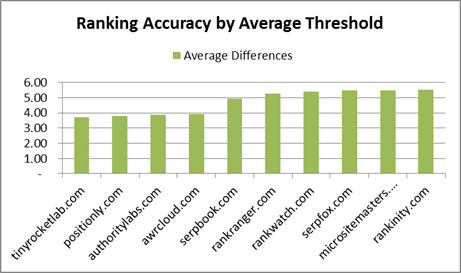 .
Result by Mode Threshold – All 5 keywords
The overall results are very similar to Median Threshold. If mode value is not defined, Average of Mean + Median value will be used as the threshold.
Top 4 performers are AWCloud, Tinyrocketlap, Authority Labs and Positionly have 2- 3 positions differences.
Others started to have 4-7 position differences.
Ideally, this should be the most accurate threshold to do comparison if the numbers of occurrences are high.
Result by Average of all Thresholds – All 5 keywords
The results of the 3 thresholds are aggregated to summarize the best performers. The following diagrams indicate the final result.
AWR cloud is the winner follow by Tiny Rocket Lap, Positionly and Authority Labs.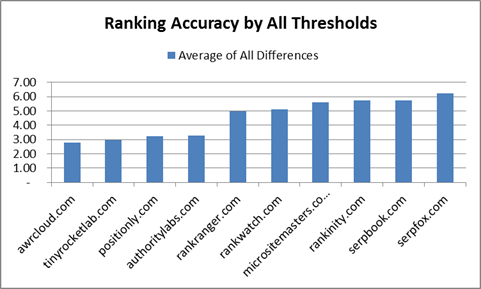 Ranking Result for High Rank Keywords – 3 Keywords
Ranking Accuracy Result by Median Threshold – 3 Keywords
AWR Cloud is the winner again with < 1 position differences.
Positionly is out of top 4 replaced by Rank Watch.
Generally, the differences are much lower for all rank checkers.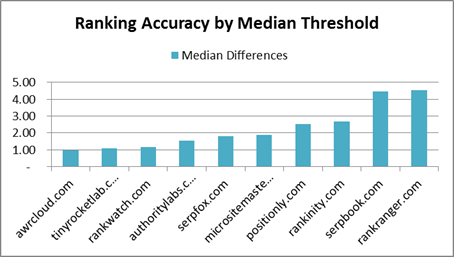 Ranking Result by Mean (Average) Threshold – 3 Keywords
Authority Labs score the best follow by Rank Watch, Tiny Rocket Lab and AWR Cloud.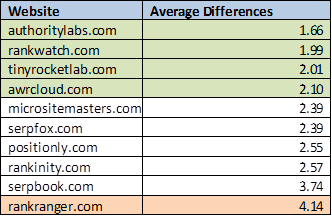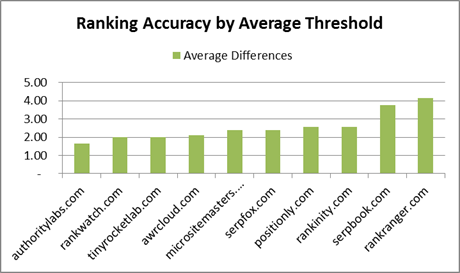 Ranking Accuracy Result by Mode Threshold – 3 Keywords
Tiny Rocket Lab score the best with 0.83 differences and follow by AWR Cloud, Rank Watch and Authority Labs.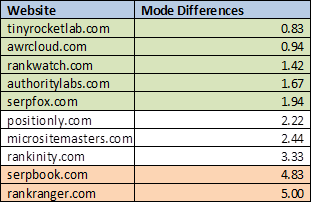 Ranking Accuracy Result by All Thresholds – 3 Keywords
The following diagrams indicate the All Thresholds result.
The position differences are much lower compare to previous set of all keywords result. However 4-5 positions will be a big gap for keywords with ranking < 30.
Rank Watch performs better compare to Positionly become one of the top 4 performers.
SerpFox performs much better compare to previous set of result.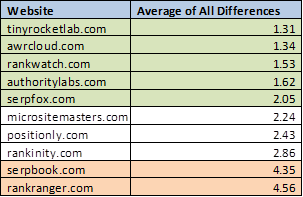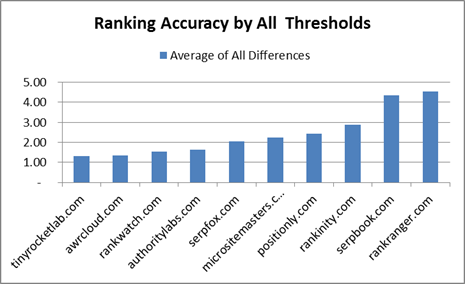 Summary of Testing
Based on the testing and analysis, the ranking differences are smaller for the high rank keyword compare to low rank keywords. AWCloud,Tiny Rocket Lab, Authority Labs, Rank Watch and Positionly are the winners in this testing. But this doesn't mean that others are bad as the position differences are still small within 4 to 6 positions. Furthermore, the ranking result may impact by various factors.

Choosing the right keyword rank checker

There are many reasons to consider when choosing the right online rank checker. The most common factors include accuracy of result, pricing and additional features such as google analytics, web master tool integration and on-page optimization etc. Let use the follow factors to choose the best keyword rank tracker.

Top keyword rank checker based on accuracy of result
Take a look on AWCloud, Tiny Rocket Lab and Authority Labs if you are very particular on the accuracy of the ranking result. They perform very well based on our testing and analysis.

Top keyword rank checker based on pricing
It is all depends on how many keywords you would like to track or how much budget you have in your pocket. Here are some guidelines assuming your main target is to get the ranking and other features are less important.
No. Keywords
Rank Tracker
10 keywords
Tiny Rocket Lab, SerpFox and micrositemasters provides free plan up to 10 keywords. Tiny Rocket Lab is highly recommended as they perform very well in our testing.
50 keywords
Rankinity, SerpFox , SerpBook offer low monthly fees ranging from USD 5 to USD 15
200-250 keywords
Rankinity, Rank Watch , SE Scout (200 keywords), SerpFox (200 keywords) offer fees ranging from USD 25-USD 30. Rank Watch is highly recommended as they provide additional features and performs well in ranking accuracy testing.If you are willing to pay to up USD 49, they will be lot of choices such as AWR Cloud, Authority Labs, Microsite Master (650 keywords), Positionly, SerpBook (500 keywords), Tiny Rocket Lab and ranktrackr (300 keywords).
>=1000 keywords
Here are the few of them include in this range:
serpfox.com – USD 99 – 2000 keywords
serpbook.com – USD 80 – 1000 keywords
rankwatch.com – USD 99 – 1500 keywords
serpbuddy.com – USD 99 – 1500 keywords
sescout.com – USD 99 – 1500 keywords
Seorankmonitor does offer USD 39 for 2500 keywords but only limited to 10 domains.
Top keyword rank checker based on features.
This is very subjective depends on what you are looking for. You should try to see which one suit you the best. Here are few top rank checkers with rich features.
AWR Cloud – Score high in overall features like various types of chart, graph, white label report, google analytics /webmaster tool integration.
Positionly – Various types of chart, graph, and white label report, google analytics integration, IOS Mobile App.
Rank Watch – The best reporting features among others beside google analytics and webmaster tool integration.
SerpBook – Looks simple but powerful enough to support scheduled white label report, notification and etc.

Wrap Up
This article focus on reviewing online rank checkers that offer trial period or free plan. There are still plenty of others tools out there provide similar function but doesn't have chance to test it out. It is always recommended to do your own testing before subscribe to any of them. Ask yourself what is your primary requirement? Are you a business user wants to track your own website ranking or including your competitor? Or an agency who manage multiple clients which require white label reporting, alert notification and advanced analysis. All these requirements make a big different when choosing the right rank checker tools.
Personally, I had selected SerpBook to do further testing on my keywords.
P.S. Here is the detail result and analsysia in excel format, "Rank Tracker Ranking Accuracy Testing Analysis.xlsx"
How do you choose a rank tracker? Which rank tracker are you using? Any great experience or new rank tracker to share? Share in the comments below!
Find out more about what we do here.
Do you like this review?